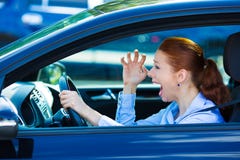 How many times have you let another driver ruin your day?
How many times have you been on the commute to work or the school run and allowed the actions of another person to put you in a bad mood?
Do you feel 'slighted' when you let someone out of a turning and they don't say thank you?
Does your 'good deed' then turn into a feeling of resentment that you let such an inconsiderate, bad mannered person out instead of just going by and leaving them stuck?
What right do we have to feel affronted that they didn't say thank you?
It is not our God given right that when we do a good deed the other person should show their gratitude?
Who are we to judge?
Gratitude, who rather the showing of gratitude is a man made courtesy. We, as humans, have programmed ourselves to think that if we do something for another then they should show gratitude by saying "thank you". Yes, I agree, it is something that I feel not enough people do, and as a society we should strive to 'bring back' good manners. However, it is not our right! We have no right to expect a show of gratitude from another person. Just because they did not put their hand up as they drove off to say thank you, does not mean that they weren't grateful.
Also, do we do good deeds to receive thanks and praise? If so then the deed is not so good after all. It is merely a means to us making ourselves feel better, hence we feel slighted when we do not receive the gratification we feel we deserve. Good deeds are for the benefit of the other person, making their lives a little easier or better, not for us to receive an ego boost for being such a 'good' person!
If you give with an open heart and expect nothing in return then the universe will reward you. That is reward enough. Do not allow another's actions to ruin your good intentions. Getting angry by a persons lack of 'manners' only results in you having a bad day. Once you allow the resentment of your good actions to seep into your thoughts then you stop noticing the good in everything else around you and instead focus on the perceived mindless, inconsiderate actions of your fellow man.
The supermarket is a classic example of what I'm talking about. How often do we step aside to let someone by with their trolley only for them to walk past without even looking in our direction, let alone being polite enough to say 'thank you' or even send a smile our way! We then spend the rest of the visit grumbling to ourselves about the 'lack of good manners now days'. I bet some of you have even then gone out of your way to obstruct the other persons path when you've met them in the next isle, making them wait until you are good and ready to get out of the way??? Come on, we've all done it lol.
Here in the UK we are especially fond of manners. Some may say we are even a bit OTT when it comes to having good manners. We get frustrated when we are on holiday at others apparent lack of manners, when in fact they just come from a different country and culture with different traditions and etiquette. They are not being bad mannered, we just perceive them to be because they don't fit into our ideal behaviour.
I have to admit that in recent times there is definitely a rapid decline in social etiquette and politeness. Everyone seems to be in far too much of a hurry too have time for the simple things in life like please and thank you. Now there is an expectation that it is our right to be let out of turnings or into a lane on the motorway. We think people should get out of our way in the supermarket isle. What right do they have to block our path? What happened to common courtesy and living harmoniously with one another?
I guess that the only way to change things is to lead by example. Carry on with your good deeds, give generously, but give without expectation. Give for the sake of giving and making another person happy. This act in itself is thanks enough.
So the next time you let someone out while driving along or move aside in the supermarket isle, don't feel despondent or resentful if the other person doesn't show appreciation, just go about your business knowing that your small act of gratitude will come back to you when you need it most. The universe is always listening and responding to our actions.
One final thought. We never know the lives or circumstances of another, therefore we cannot judge their actions. We also don't know how much our small act of kindness may have changed their whole day. Think instead of giving as a small act of love and your heart will be filled with joy and you will be eternally rich.
Love and happiness
Catherine xx
All images courtesy of Google images. If they belong to you please contact me and I will give credit.